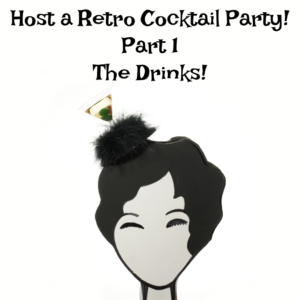 My drink of choice is a dirty vodka martini – not a terribly authentic retro cocktail for a retro cocktail party, but we needn't tell anyone it is vodka and not gin. It still looks classy – a nice martini glass and a few olives skewered on a toothpick.
I would argue that presentation is just as important as the cocktail recipes, especially if you are hosting a retro cocktail party. Whatever you choose to drink, including ginger ale, will taste better when served in a fabulous glass.
Serve an old fashioned and channel Don Draper will having a sip using these rocks glasses.
These glasses are super cute and reminiscent of 1950's barware. Plus, they are plastic, so you could even serve kid-friendly drinks or use them to serve the perfect whiskey sour and not worry about breakage!

Maybe you would prefer a vodka martini or a gibson? A traditional vodka martini is vodka, vermouth, and a twist. I am going to give you full permission to swap out the twist for an olive (or 3) and a generous splash of olive brine. A gibson is basically a gin martini, but you sub teeny cocktail onions for olives. When I was a kid my grandfather used to let me have a few cocktail onions on a little sword toothpick. I haven't had one in ages. I do have a bunch of my grandparents' barware – they hosted quite a few cocktail parties back in the day.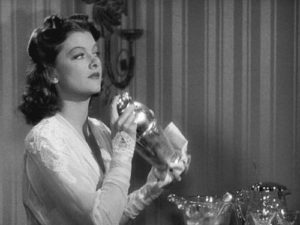 Shake up your out-of-this-world martini or gibson (or cosmo or whatever!) in this space-age shaker
and serve it in a classic martini glass.
Don't forget your swizzle sticks,

picks for cocktail onions (or olives),
and the kitschy cocktail umbrellas!
You can find these and more fun retro, cocktail party items here!
PS: These are affiliate links.
Comments are closed.